Introduction
Osteometabolix Pharmaceuticals Inc. (OMX) presents a strategic partnership opportunity for development, formulation and pre‐clinical evaluation of unique targeted therapies for bone disease.
The Problem
Loss of bone mineral density in Osteoporosis, Osteoarthritis, rheumatoid arthritis, Paget's disease and bone cancer is a real and significant clinical problem.  Osteoporosis (OP) related fractures affect one third of postmenopausal women worldwide, with an estimated 2 million OP related fractures occurring in the United States alone in 2005.  These fractures are debilitating and sometimes fatal.  Fractures occur when bone encounters load of sufficient magnitude (and rate of loading) to exceed its mechanical strength. The polypeptide hormone calcitonin (CT) is currently used as a treatment to inhibit the bone‐resorptive actions of osteoclasts and decrease their numbers, thereby improving bone‐mineral density. However, the half‐life of unconjugated CT is short (43 minutes), the peptide concentration in bone is greatly reduced by systemic dilution, and its therapeutic effectiveness is reduced. Increasing CT dosage is limited by unwanted systemic side effects and organ toxicity.
The Solution
OMX's patent-protected lead product, bisphosphonate conjugated Calcitonin (BP-CT), has been shown to significantly outperform current commercial formulations of Calcitonin in a preclinical rat model of Osteoporosis, while further reducing the major side effects associated with current monotherapy of either bisphosphonate or Calcitonin drugs alone. Accordingly, OMX are seeking a strategic co-development partnership for Lead Optimization of BP-CT to First Time in Human (FTIH) evaluation of their unique bone targeted therapy for bone disease.
Bisphosphonate- calcitonin conjugate (BP-CT) Outperforms Commercially Available Calcitonin In Vivo
We tested the pre-clinical antiresorptive efficacy of BP-CT versus unmodified calcitonin in a rat model of osteoporosis secondary to ovariectomy (OVX). We measured the bone mass in groups of 4 rats by micro- computed tomography at 0, 4, 8 and 12 weeks after OVX surgery. Rats that received BP-CT showed significantly greater bone mineral density than untreated rats, or those that received commercially purchased calcitonin (Calcimar, sanofi-aventis).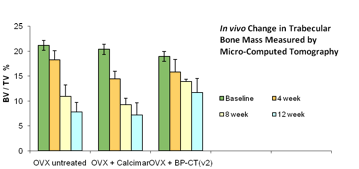 This preliminary study clearly shows compelling evidence for the antiresorptive efficacy and potency of BP conjugated calcitonin formulation.